CoronaVirus Sale on Now!
Every manager needs to be on the lookout for these words from their engineers. Every time these words are uttered, they cost you money. Lots of money!
These words are words cloaked in speed and efficiency, but they are anything but. Your engineers aren't to blame necessary, it's just that he or she is instructed in school specifically to rely on this inferior method. And this method prohibits learning which leads to wasting more time.
It's a vicious cycle. This cycle led me to creating this Advanced Stress Flow Design Course.
One of the reasons you are a manager is to promote the most production out of your team. I want you to cringe inside every time you hear these words just like I do. At the very least, the hairs on the back of your neck should stand up.
So no more delays, these are the words that cost you money every time they are spoken or thought:
"Let me run a quick FEA"
Oh, I just cringed myself. There is nothing quick about FEA. Any FEA must be broken into multiple steps that all require time.
Create an accurate model – This is especially tricky with weldments because the model needs to have the welds transferring the loads between components. This can take several hours for each welded component.
Ensuring mesh accuracy – Once the model is complete, adding the mesh and knowing that it is accurate is the next challenge. Generally speaking, most engineers don't know how to do this and it is not taught in school.
Setting up loads and contacts – This is probably the quickest step, but it can lead to long run times if not setup correctly.
Running the FEA – On a simple weldment where all the components are bonded together, this may take less than 30 minutes. On more complicated weldments, run times may increase. If the run time is under 4 hours, you will likely only get 1 possibly 2 results per day. If if is over 7 hours, you will only get one result per day. Poor throughput.
Interpreting results – Poor evaluation of the results can lead to many more FEA runs. Even with a "quick" FEA, an engineer that doesn't know how to interpret the results and change the design will only make incremental improvements.
You can clearly see from the process that it takes a lot of time. Even if these steps are done efficiently, there is no guarantee that your time to a final product will be decreased. In fact, the opposite is usually true.
In order to keep your competition at bay, your engineering team needs to be top notch which means getting designs out faster than ever before. They need to be able to do their job without dependence on FEA.
Early in my career, FEA was new and not widely used. As a result, engineers needed to know how loads transferred through weldments and design accordingly. There are many great designs done using the classical methods that I will explain. Even to this day, there are many buildings, tramways, trucks, cranes, roller coasters and all sorts of industrial products in use that were designed without FEA.
These engineers could look at designs and locate potential problem areas within seconds. This is a learned skill that every engineer can acquire with practice and training.
Before FEA, these skills were passes on between generations through proper mentoring. Unfortunately, FEA has short circuited that process offering better results in a fraction of the time. Both claims are false.
The result of this technological improvement is an older generation of retired engineers that have not passed on their knowledge. Even with the advent of FEA, you still need that knowledge to interpret the results of your FEA.
Stress Flow Analysis
The material that used to be passed from one generation to another was called stress flow analysis. All engineers need to learn these fundamental principles and get in the practice of applying them.
In the design process, FEA should only be used as a check after the design calculations have been completed. Even then, the principles of stress flow should be applied again before the next FEA run is done.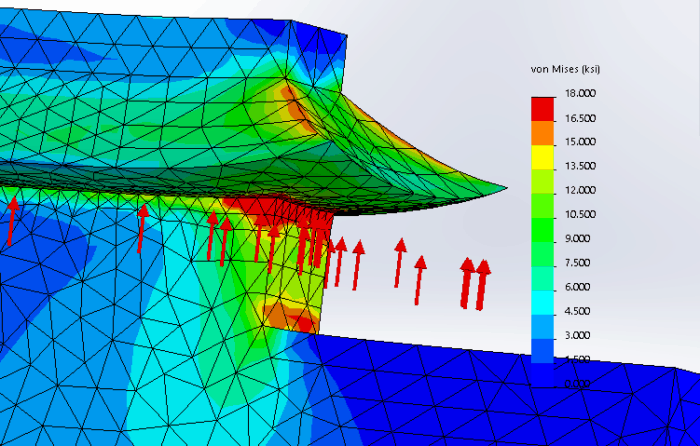 Using stress flow analysis, you will be able to:
Spot potential problem areas in a design quickly
Determine if welding is adequate
Look for stress concentrations
Minimize or remove stress concentrations
Identify and eliminate bad joint design
Prevent cracks from occurring
Ensure long life of structural components
Evaluate FEA and correct problems
The this course will pay for itself on your first project.
In my first engineering position, the use of FEA was strongly discouraged for design. It was only rarely used as a check.
Over the years, I kept notes of all the tips and tricks that I learned from senior engineers. The list became quite long because there was so much information.
Honestly, sharing this information has been a passion project of mine for many years and I have put it off for far too long. I found that it is difficult to pass this information on in small snippits. So, I created a comprehensive course to share this substantial wealth of knowledge.
The truth is that most engineers have had only one course in college that touched on this material. It was very broad and only covered the basics of stress and strain. This class was probably taken junior year and the material is for the most part forgotten. It had laid dormant in my mind for nearly 4 years!
In order to educate the future generation of engineers, I am introducing an Advanced Stress Flow Design course for engineers of all skill levels.
This course will be a quick refresher of the basics and then build on so much more. Course topics include:
Review of stress and strain
Axial, bending, and torsion stress calculations
Stress concentrations
Combining multiple loads and stresses
Visualizing how stress will flow in an object
Weld types and planning
Joint design
Remembering to keep your forces balanced when changing stress directions
Common problems with known joints
And a fun game of good joint / bad joint
But wait….There's More!
Course Extras
This online video course can be viewed from anywhere with no limits. Take it now and brush up on a video or two anytime you'd like or before a new project. Login in anytime you like and do a lesson.
The course contains 7 hours of material all designed to give your engineers the edge.
Quizzes after each section will evaluate if the material was understood.
PDH certificates are available for purchaser after successful completion of a final exam. (7.0 PDH)
You will also get lifetime access the the ultimate beam calculator. This calculator is a wonderful tool for applying multiple loads on a beam. Great for adding the primary loads as well as the weight of the structure itself.
Corporate Discounts
For companies that have more than 10 engineers they want to sign up through the course, we have discounts. The discount can be applied for any purchase made with your company email account. Please fill out this form to get your coupon code.